Valentine's Day 2021: a declaration of eternity
Just as it has been each year since 2001, February 14th is the perfect occasion for a special encounter between Blancpain and women. For its 21st Valentine's Day special series, the Manufacture thus offers a heavenly interpretation of its Villeret Women Date model in a 28-piece limited edition. Dedicated to celebrating lovers, this new model is all about airy lightness. The white mother-of-pearl dial is an invitation to soar above the clouds, where Cupid playfully hides from the gaze of those he has struck with his arrow. The source of every desire is symbolised by the seconds hand, sweeping a crimson-red heart matching the watch's alligator leather strap along in its dance. The openworked hour and minute hands accentuate the refinement of this timepiece, enhanced by the precious touches of a diamond-set chapter ring and bezel.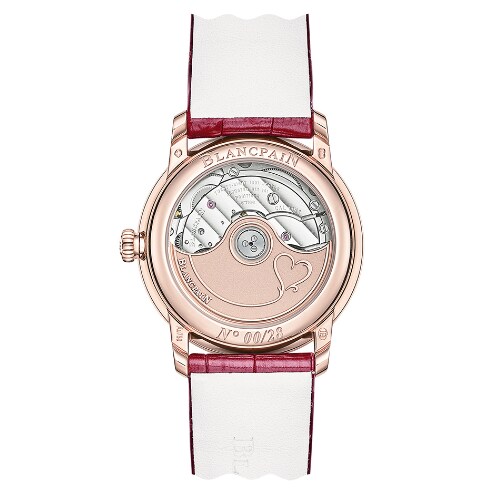 Blancpain and Women
Blancpain played a pioneering role in the history of women's watches, by presenting the world's first self-winding wristwatch for women in 1930. Ever since, the Manufacture has continued with constant innovation by miniaturizing movements - in order to equip feminine models with horological complications that were previously reserved for men.
Ladies have helped to shape Blancpain's history for decades. The relationship between women and the Brand took on an additional dimension in 1933, when Betty Fiechter – a loyal employee of Frédéric-Emile Blancpain – bought the Manufacture and became the first female CEO and co-owner of a watch brand. With her intelligence and visionary spirit, Betty Fiechter succeeded with the challenge of opening up new perspectives for the creation of jewellery watches and also with giving Blancpain an international reputation. This culmination is illustrated with a stunning 1930s Art Deco-inspired cocktail watch, that belonged to the famous American actress Marilyn Monroe.
Convinced that women appreciate the expertise and magic of mechanical creations, Blancpain makes a point of pursuing this tradition, by instilling a spirit of grace and audacity to its present-day feminine timepieces.
The luckiest thing that ever happened to me was being born a woman

Marilyn Monroe
Complex, sensual and breathtakingly beautiful, Marilyn Monroe shares many commonalities with the spirit of Blancpain's feminine timepieces, embodying audacity and timeless elegance.
Stories of Marilyn Monroe
The mystery of Marilyn Monroe... What is it about her that continues to fascinate us all more than half a century after her death?
Through a series of videos, Blancpain is able to offer a glimpse into some of the lesser well-known aspects of her life. The stories reveal her as a real person, who during her exhilarating life wore a stunning, diamond encrusted, Blancpain cocktail watch. Our storyteller is Larry Schiller, a renowned American film producer, as well as an Emmy Award and Academy Award winner, who photographed Marilyn during the last two years of her life. His access bore witness to Marilyn, beyond her role as a screen star, unveiling her as a woman with a complex and intriguing personality.
Blancpain recently had the honour of filming Larry Schiller in New York, as he recounted intimate and personal events from those two years spent alongside Marilyn Monroe.
Marilyn Monroe™; Rights of Publicity and Persona Rights: The Estate of Marilyn Monroe LLC. Photos by Sam Shaw © 2019 Sam Shaw Inc.