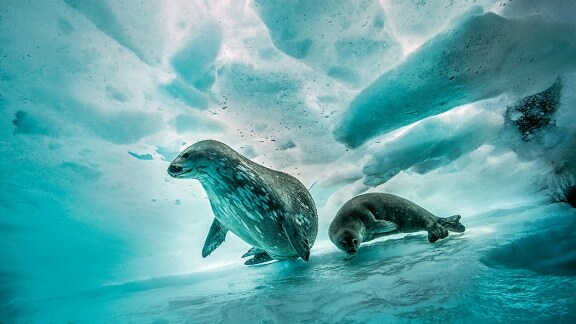 Blancpain & the underwater world
Blancpain played an essential role in the development of scuba diving with the creation of the Fifty Fathoms, the first modern diver's watch in the world, launched in 1953. Professional and amateur divers immediately recognised both the genius of its conception and its exceptional characteristics and reliability. Blancpain has forged close ties with ocean-lovers who have adopted the brand: deep-sea pioneers, explorers, oceanographers and underwater photographers. These links led Blancpain to get involved in the exploration, preservation and protection of the oceans. We did not content ourselves with merely acting alongside those who share these ambitions; we helped a number of environmental initiatives get off the ground, as a founding partner. One of these projects, the Pristine Seas Expeditions, which we supported for five years, enabled the creation of new marine protected areas covering more than four million square kilometres across the world.
Blancpain also played an instrumental role in becoming involved with Laurent Ballesta's Gombessa project, which is devoted to the study of some of the rarest and most difficult to observe marine creatures and phenomena. The Blancpain Ocean Commitment has also been active in supporting the World Ocean Summit organised by The Economist, the World Oceans Day, which takes place every year at the United Nations' headquarters in New York, the Hans Hass Fifty Fathoms Award and many others.
At present, we have co-financed 18 major scientific expeditions, participated in the doubling of the marine protected surface area around the world, and presented several award-winning documentary films, as well as underwater photo exhibitions and other publications. These contributions in favour of the exploration and protection of the oceans were supplemented by the sale of several limited edition watches, each one of them generating an additional 1,000 euros on top of the annual funding granted by Blancpain.