A vintage Blancpain model that belonged to Marilyn Monroe unveiled in New York
On October 30th in its emblematic Boutique on New York's Fifth Avenue, Blancpain is unveiling a legendary 1930s jewelry watch that belonged to Legendary star Marilyn Monroe. The display of Monroe's stunning cocktail watch is part of an exhibition entitled Timeless Elegance, featuring personal belongings and a curated selection of photographs of the beloved American actress. An exclusive opportunity as well to discover the Manufacture's expertise and pioneering spirit in the world of feminine watchmaking.
"Timeless Elegance" exhibition is on show from October 31st through November 23rd 2019, in Blancpain's Boutique at 697 Fifth Avenue, 10022 New York, USA.
The luckiest thing that ever happened to me was being born a woman

Marilyn Monroe
Complex, sensual and breathtakingly beautiful, Marilyn Monroe shares many commonalities with the spirit of Blancpain's feminine timepieces, embodying audacity and timeless elegance.
Marilyn Monroe's Blancpain watch
Crafted in platinum and paved with 71 round-cut diamonds and two marquise-cut diamonds, it bears the "Blancpain" insignia on its white rectangular dial with yellow hour-markers and blue hands, as well as the mention "Rayville Watch Co. 17 Jewels" on its tiny mechanical FHF 59 movement. The slender geometry and structured setting of this precious watch embody a perfect balance between avant-gardism and elegance, both day and night.
The watch has an inimitable manner of combining charm, ingenuity and a unique temperament. Like Marilyn Monroe herself, an icon with a timeless aura.
Betty Fiechter and Marilyn Monroe
Blancpain's epic saga of feminine watches was written by Betty Fiechter, an equally extraordinary woman who made history much like Marilyn Monroe. As the first woman to head a watchmaking company in 1933, her intelligence and visionary spirit paved the way for jewelry watches at Blancpain and resulted in the brand's international reputation. Fiechter's career trajectory was similar to Marilyn Monroe's, who became the second American woman to run her own production company.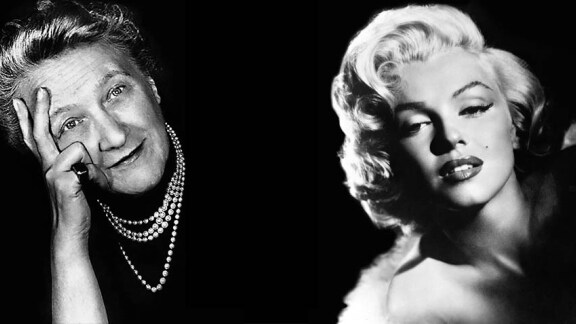 Blancpain Moon Phases watches: a symbolic link with Marilyn Monroe
The link between the star and the Maison is also revealed through a small aesthetic nod gracing Blancpain's Moon Phase watches. Marilyn Monroe's historic beauty mark epitomizes sensuality and glamour. In the 1980s, Blancpain updated the moon phase indication – which has since become a signature of the Manufacture – and gradually became distinctive thanks to the smiling face of its moon. Since the 2006 launch of the Women collection, all the ladies' Moon Phases models feature a female face adorned with a star-shaped beauty mark. Like the Hollywood star, Blancpain's women's models encapsulate the same quintessential uniqueness and timeless elegance.
Today, the latest Villeret Quantième Moon Phase models continue in the same vein to make this most poetic complication shine through.
Marilyn Monroe™; Rights of Publicity and Persona Rights: The Estate of Marilyn Monroe LLC. Photos by Sam Shaw © 2019 Sam Shaw Inc.